Local Attractions
Butte du Lion/Lion Hill, Waterloo
The Butte du Lion, lion hill, rises above the former battlefield and is visible from afar. It was constructed between 1823 and 1826 on the place where the Prince of Orange received his fatal wounds. The hill was built up with 32,000cu.m/42,000cu.yd of earth from the battlefield to a height of 40m/131ft and a circumference of 520m/1,706ft on a supporting brick base.
Grand Place, Brussels
"One of the most beautiful town squares in Europe, if not in the world", is a phrase often heard when visitors in Brussels try to describe the beauty of the central market square. French-speakers refer to it as the 'Grand-Place', whereas in Dutch it is called 'de grote Markt'.
Cinquentenaire, Brussels
Around 1850 the area of the Jubilee Park was a training ground for the Civil Guard. In 1875, architect Gédéon Bordiau drew the first plans of exhibition halls to celebrate the fiftieth anniversary of the Belgian Kingdom (1830 -1880).
La Bourse
The building that houses the Brussels Stock Exchange does not have a distinct name, though it is usually called simply the Bourse. The building was erected from 1868 to 1873, and mixes elements of the Neo-Renaissance and Second Empire architectural styles. Architect Léon-Pierre Suys, as part of his proposal for covering of the Senne, designed a building to become the center of the rapidly expanding business sector..
Manneken Pis: Brussels' Pissing Boy
Created in 1619, Manneken Pis is among Brussels' most famous statues. Literally translated as "Little Man Piss," the statue -- only 2 feet tall -- can be found behind a small fence at the corner of rue de l'Etuve and rue Chênet. If you show up on the right day, he may even be wearing one of his 600 costumes -- most of which are freaking hilarious! -- and all of which can be seen at the Musée de la Ville de Bruxelles.
Atomium
Atomium, Brussels Built for the 1958 Brussels World Fair (Expo '58), this 103-metre high structure represents a molecule of iron, magnified 165 billion times. Nine 18-metre diameter steel spheres are linked by tubes which enclose escalators up to 35 metres long. Windows in the top sphere offer a panoramic view of Brussels. Some spheres house 1950s exhibitions. Initially planned for a life span of only six months, architect André Waterkeyn's design has lived on to become a popular tourist attraction and a Belgian landmark.
24 hours Front Desk Service!
Late arrival welcome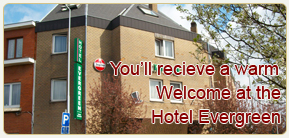 Hotel Evergreen


Address: Avenue V.Day 1/3
1140 Bruxelles ( EVERE )
Tel : +32.(0)2.726.70.15
Fax : +32.(0)2.726.62.60
Mail : reservationevergreen@gmail.com